Iron King's Tonka not just a one of a kind XL pitbull but a one of a kind dog!! Structure and temperament this boy is perfect! Produced here of course!



Our beautiful son with Raven , when your dogs look this
good even a three year old can stack them!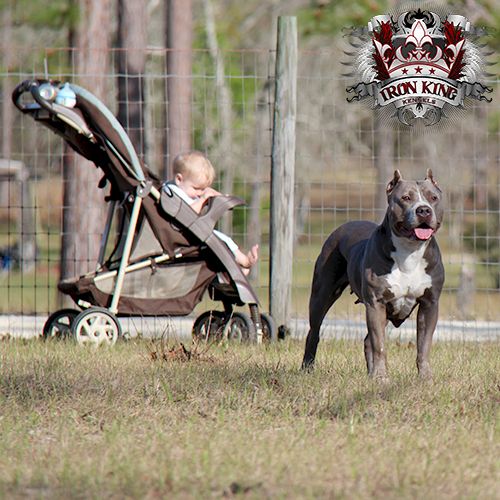 Raven watching and protecting our son Theon ,
I dare you to touch him you will have to deal with his nanny! LOL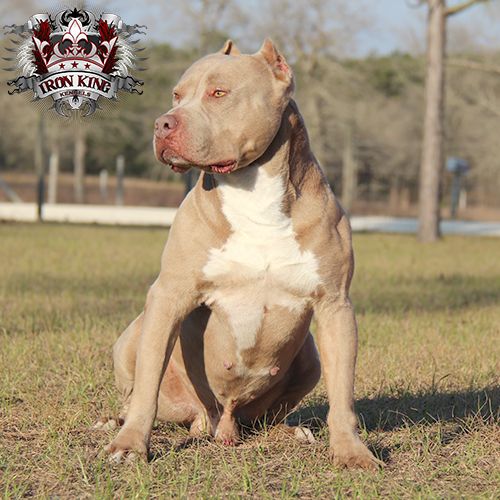 Jethro has puppies all over the world! You could be the next lucky owner but only if you want the best!


Iron King's Tessa from our legendary breeding of our Giant Gypsy
and the world famous Big Gemini Kennels The Rock!


Galactus one of the sexiest XL pitbulls I have ever laid my eyes on and of course produced here!!

call for info 1-352-857-9007

This 120+ boy was Produced by our own
Jethro x Halo



Queen of Dutch from
Jethro x Halo
owned by a Blue Bully Breeder
in
the Netherlands


Some examples of our
Extra Large Puppies
at only one week !


"The Super Monster" Moose at 1 week !


It's easy to see why our Blue Bully Puppies are the best !

We produce the best XXL American Pitbull Terriers !


Look at the size of these Extra Large puppies
and these are the females !


Nobody produces Blue Bully Puppies this big and clean
as consistently as we do !


Check out our Puppies page to see our new
Blue Bully Puppies For Sale


Now the same XXL Puppies
at
only eight weeks !


If your looking for the best pet money can buy
Or you are a Blue Nose Pitbull Breeder
that is looking to put your kennel
on the map - give us a call !


WOW! Now those are some
huge Blue Bully Puppies !

If you want to see more of our
Extra Large Puppies
than check our produced page

When you look at these pups it's obvious why
we are one of Americas Top Kennels !

These badass puppies were produced
by our Super Freak Gypsy


You can look all over the world
but you won't find another kennel
that has Blue Bully Puppies for sale like these !



Our very own Raven , Iron Tyson's
best female he ever produced IMO!


Here is Iron Kings Raven stacked with a 105 pound male!
How many people have females like that!






When we started our pitbull kennel years ago we decided we specifically wanted to specialize in the XL sized American pitbull terrier ! So after doing nearly a year of research ( which is very important before you buy a pit bull puppy ) , calling every Blue Bully Breeder , all claiming to have have 100+ beasts , and seeing both the sire and dam in person ( WHICH ALSO IS VERY IMPORTANT! ) we made sure we got some of the best pitbulls any where , and have taken those dogs and bred them to the best studs in the world to start creating the Iron King Bloodline . Because we have some of the best dogs in the world , only bred to the best and the fact that we are full time breeders it helps make sure all of our puppies are the best ! We will produce only top quality premium pitbulls with incredible temperaments , here at IRON KING KENNELS Expect nothing but quality , so if you were looking for the #1 place to find Extra Large Puppies or Blue Pitbull Puppies for sale in florida , America or in the world than you have found it! Iron King Kennels - Blue pit bulls, pit bull breeders, pit bull puppies sale, extra-large puppies, large pitbull.



For any information
Call Beau
@ 1-352-857-9007






Iron King Kennel's
"Hera"
X
Iron King Kennel's
"Galactus"
Pups on the ground now!
Iron King Kennels
"Galactus"


This breeding has exceded our expectations by leaps and bounds! We already knew our female Hera was a super producer but Galactus has produced his butt off with her! Both parents wre produced here and have passed the super freak genes on to these puppies! Galactus is from our Dungeon Master and Gypsy breeding and with his half bro Moose are Dungeons best productions by far! Galactus has everything you would want in a dog! Looks , personality , athletism what more could you ask for? Hera is from our breeding of Jethro and Raven and is a perfect combo of her parents! In her last breeding we bred her to the world famous Stalefish and with him she produced one of Stalefishs best litters ever and produced a nearly world famous male from that litter! We see the same greatness in these pups and are very excited to show the world why we are the best!!

FEMALE 1-Iron King Kennels

*

*

*
Iron King Kennel's
"Galactus"
X
Iron King Kennel's
"Karma"
Pups on the ground now!
Iron King Kennels
"Galactus"


Another breeding with two fine specimins that we produced here! Galactus is our new upcoming stud and is proving himself very quickly. He is a genetic powerhouse and his ped is filled with nothing but the best! He is from our breeding of Dungeon Master and Our freak Gypsy and I am proud to have to produced this dog and have him starting our bloodline! Karma is From Gypsy and Big Daddy Cain. She is from his last litter and is by far his biggest and best female he ever produced! Karma has produced nothing but outstanding dogs in everyone of her breedings and its very obvious this litter is the same! Both dogs are from our foundation female Gypsy and by doubling up on her these pups should have her look and size and from what we have seen they definitly do!!

*

*
Iron King Kennel's
"Jethro"
X
Iron King Kennel's
"Sunfire"
THIS LITTER IS SOLD OUT!
Iron King Kennels
"Jethro"

Iron King Kennels
"Sunfire"


From the day Sunfire was born this is the breeding I had in mind for her! Jethro is our foundation male and has offspring all over the world and alot of upcoming kennels got a pup from him when they started! He has produced alot of our best dogs in our kennel and with sunfire we are expecting one of his best litters! Sunfire is from our Moose x Karma breeding and is a 2nd generation Iron King Dog. She is extremly correct , has a huge frame and is such a sweet dog. Jethro needs no intro you can see his productions all over our website , he produces nothing but the best!! This will be one of Jethros last breedings and all the pups are champagne which is a first for Jethro.


FEMALE 1-Iron King Kennels

*

*

*
Iron King Kennel's
"Moose"
X
Iron King Kennel's
"Aphrodite"
CONFIRMED PREGNANT!
Iron King Kennels
"Aphrodite"


This is truly a breeding of Beauty and the Beast! "Moose" is 24-25 inches tall , 24 inch head and 125+ pounds! He is turning out to be one of our best studs! Coming from our Breeding with 'Raven" x "Dungeon Master" you can see he got his mothers looks and muscle and his fathers size and thickness and from what we're seeing he has their combined producing powers! "Aphrodite" was named after the goddess of beauty and you can see why!! Coming from Camelots "Wonk" and NLP's "Vox" her pedigree has some of the most famous dogs in the Red and Blue pitbull world!! In both of her previous litters she has produced some of our most beautiful dogs we have ever created including "Cupid"!! You will get best the both worlds with this breeding , combining "Mooses" massiveness and good looks with "Aphrodite's' super beauty and athleticism we plan to get some of the best dogs we have produced from this breeding!





FEMALE 2-SOLD -Crystal ,FL

*

*

NAME: Beau

PHONE: 1-352-857-9007
Galactus and Hera litter
at 11 weeks
Males

Male-A
$2500




Females

Female-A
$2000


Female-B
$1500


Female-C
$1000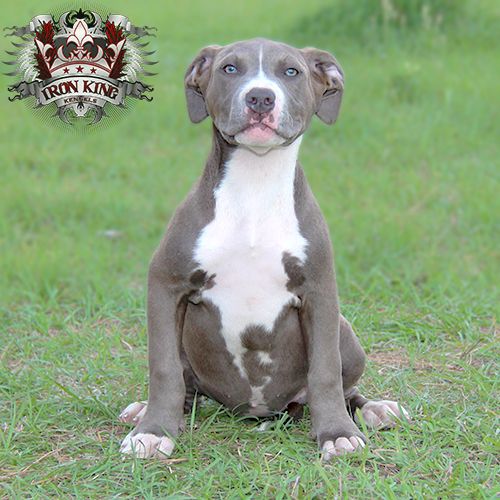 Breedings like these are the reason why we do this , every pup in this litter is incredible and what makes us the proudest is that we produced both parents here! Galactus is our newest up coming stud and he is proving himself very quickly with pups like these!! Galactus has some of the best blood in him and with a female like Hera we are expecting a whole litter of bombs! Hera is from our breeding of Raven and Jethro and has produced some nearly world famous dogs in her previous litter with the Super freak Stalefish and I see the same features in these pups.
For more info on this breeding check our breeding page


Call Beau for info
1-352-857-9007
ironkingkennels@aol.com

Galactus and Karma litter
at 11 weeks
Males

Male-A
$2500




Females

Female-A
$2500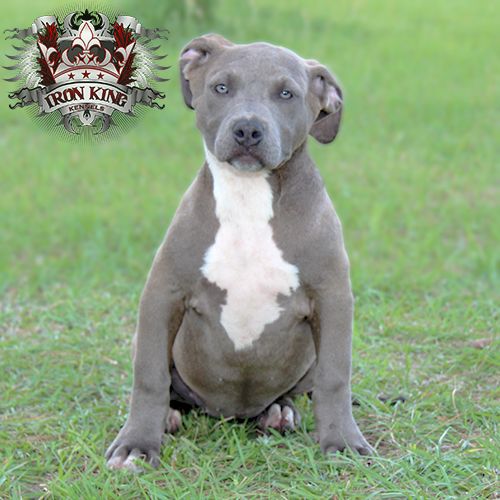 Female-B
$2000


Female-C
$1500


Female-D
$1500


Female-E
$1000



This year is starting off with BOMBS!! Its easy to see both parents really produced an incredible litter here! Both sire and dam were produced by us and are a prime example of what we produce!! Galactus is from the famous Gypsy x Dungeon breeding and is definitely producing freaks like his mom and dad! Karma is from our Gypsy x Cain breeding and has a perfect mixture of her parents! She has produced nothing less than perfection in all her breedings and she has done it again!
For more info on this breeding check our breeding page


Call Beau for info
1-352-857-9007
ironkingkennels@aol.com



Jethro and Sunfire litter
at 6 weeks
THIS LITTER IS
SOLD OUT

Males

Male-A


Male-B



Females

Female-A


Female-B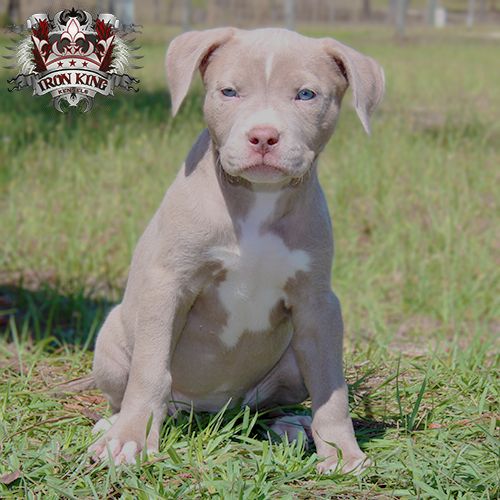 Female-C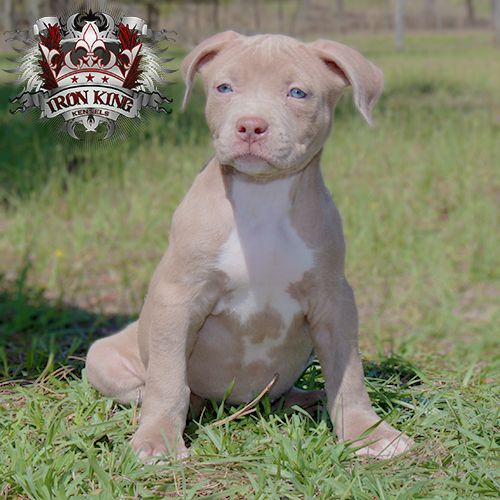 We are extremely excited about these pups! Jethro is our foundation male and has produced some of our best litters. We have kept many of his offspring and his offspring have started many other kennels all over the world in many different continents! Every litter Jethro is bred to he produces better versions of him self and the mother and we expect nothing less from this breeding. Sunfire is from our Moose and Karma breeding and is nothing short of amazing! From the minute these pups were born they have been monsters and are growing very fast!
For more info on this breeding check our breeding page


Call Beau for info
1-352-857-9007
ironkingkennels@aol.com